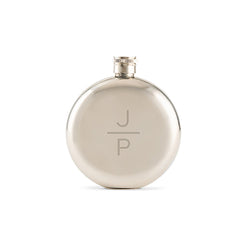 Jena Richards Weddings
Round Stainless Flask with Etched Monogram
This chic round stainless steel flask with an etched stacked monogram features a polished finish and holds 5 ounces (148ml), an ideal gift for the groomsmen and bridesmaids. Personalize with 1 top initial and 1 bottom initial. Available in polished rose gold.
Minimum order 5
Personalization is included
Holds 3 ounces (89ml)
Please allow 5 to 7 business days for processing.
Size: 3 5/9 diameter x 7/9" deep x 4 1/4" high
WS7072-77
Free ground shipping for orders over $100.00 in the Continental USA.